Archive for the 'Designs by Reglandus' Category
This is a poem about true love and sacrifice.
It is actually the second of two that I wrote but the first one had some imperfections that appeared after printing I'm not happy with.
The photo with the frame really doesn't do it justice. I will edit the photo later.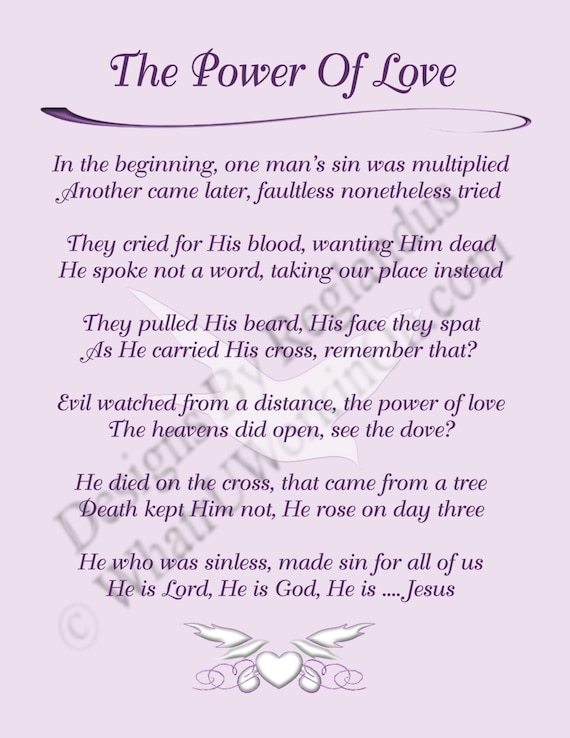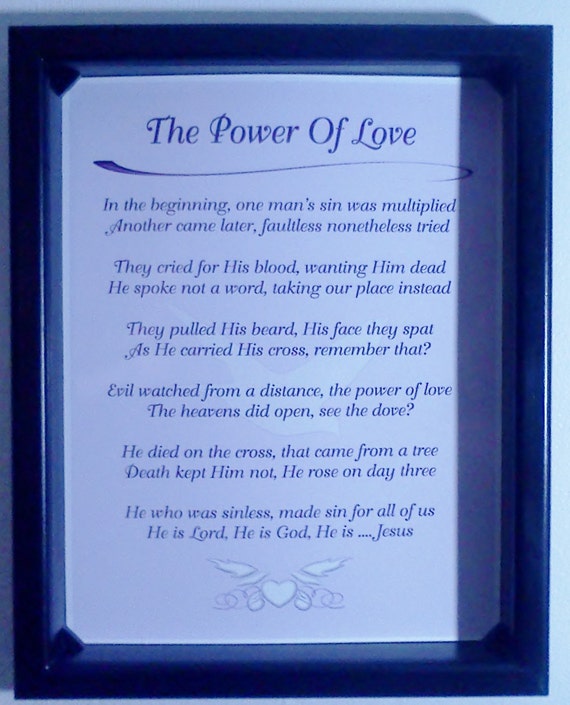 It can be purchased from my Etsy Shop.
Valentines Day is next month and will be here before you know it. If you haven't noticed the link to my CafePress store is gone from my sidebar and that is because I have closed it.

I'm focusing my efforts now into my Etsy Shop which is now open. I currently have three items and working on another as of this moment but stopped so I could get this message out. I will do my best to keep you updated when new items are added. I will add a link to my Etsy Shop on the sidebar soon.

As mentioned earlier, Valentines Day is approaching and many of you are familiar with The Bottomless Heart I designed a couple of years ago. That is the first card in my shop for Valentines Day but can be given for other occasions as well such as anniversary, birthday or just because.

I made some changes from the original design which are more simplistic. It still features the story line behind the design of the heart which is your expression of love and time shared together, with the one you love.

Here is a photo of the card's front. Please visit my Etsy Shop to see the rest.


I'm still at it as far as my clocks are concerned and my latest is a custom design for a co-worker, Ken who bought it for his uncle who is a Minnesota Vikings fan.
Ken wanted to know if I could do an official NFL design and I told him that was not possible because of copyrights and licensing. I told him I could come up with something I think he would like.
After the initial design was complete I sent it to him to see what he thought and what he would like to change. All he wanted changed was moving a few things around. He was totally happy with the design itself.
I wanted to get some feedback on the finished product so I took it to work and everyone that saw it was really pleased with it. Nothing definite but I may have two more orders coming because they liked what they saw.
I know everyone won't like it but I am happy with the response I got so far.
The clock face on this one is 8.5 x 11 landscape.
I always print a draft copy of the original so I can have something to work with
while the frame is being finished as you can see in the background
Hello everyone and thank you for your interest in the series
A Blogger's Pic In Poetry
This is number 4 in the series and another photograph by

Daniel Plumer
What stands out for me in this photo?…the fire and ice look, each giving the other their due respect in opposites, creating a union of beauty.
Two Beautiful
A fire travels above the cool quench below in sight
Consuming not to destroy, but to give wondrous light
The coolness below touched not by its red hot glare
Seems they two admonish, their beauty declared
Photograph by

Daniel Plumer
Poem by me
Sometimes I think I have to justify being critical about what I do or want to do to achieve the goals I have set. It has not been easy for me to push forward to reach for that gold ring as the wheel goes around.

I think of the setbacks and how hard it has been for me to regroup, breath, forgive AND forget. It is so hard to keep a frame of mind to NOT let things keep me from accomplishing what I know I am capable of doing. It is so easy to listen to that voice telling me to give up, quit, it's not worth it, OR that it can't be done. Telling me that no one really cares or wants what I have to offer.

Sometimes I start feeling and believing that. I do want to stop and I do hear myself say those words, breathing sighs of discouragement.

Yes it is easy to drop it all after losing so much in preparing for this moment in my life…when just a few short years ago I was tool ready and now starting from scratch.

I could let these emotions fester like a sore and destroy me, but then I'm asked if I still make Shadowbox Clocks and I say yes and now find myself custom designing an 8 x 8.

I do have a lot of things going on and I do intend to keep moving on and NOT giving up.

Yes I am hard on myself at times but it's a good thing. As much as I would like to post on a regular basis, I's getting busy for me and it may get quiet here, but…



Here they are….the most recent Shadowbox Clocks I finished. The first is the gift clock I mentioned before.
It has a picture of Theresia's son Austin, as a baby with a poem from him to his mom.
This is the printout of the design that was used in the clock. I wrote the poem after a few thoughts were given to me what he (Austin) wanted to say.
What you see in the bottom left corner is something I can't go into, but it was requested.
Some of you know of the Rise Above design on the left. So this is the front side of the picture in

this post

.
Now this next clock was designed for one of TheWife's co-workers. Sitiquat explained to me what she wanted but I asked her to draw a sketch for me.
This is the picture she sent to me in an email and I tried to use it for her clock but because all the elements are joined together, I couldn't get the fill colors separate. So I started going through my inventory of art and came up with this. I used The Bottomless Heart in place of a solid heart and I think it gives a ribbon type look as a bookmark.
She wanted a digital clock instead of a dial clock but I forgot that when I was doing the initial work.
If you're interested in what the dial face looks like…..
These are my two most recent and I'm currently #workinon a few other things.
I'm happy to report that I am back to working on past and future projects, and getting myself on a schedule that will work for me….not easy. Most of the graphic designing is done late evenings into the wee hours of the mornings, so my daytime is mostly frame work…cutting, glue, testing to see what works and making necessary changes.

A new project I have is another custom 8×8 shadow box clock. This is a digital clock design that should be done soon…the clock is currently in shipment to me. Once it's here it won't take long to finalize everything. As you can see in the picture below, the facial molding is being put in place.


Once the moldings are in place and secure, I will cut the glass for the front of the clock. The frame won't be painted until the glass is cut.
Yes, I cut glass too
I'll be working on this and other frames I have in waiting. They will not all be clocks.
If you remember, I had sold two 8×8 shadow box clocks but didn't post any pictures because one was a gift item and I was waiting for permission to post the pictures trying not to spoil the surprise. But one of them was another Rise Above design.
Rise Above 8×8 Shadow Box Clock
The one on the right is the gift clock
I'm going to get an update on the status of the gift clock because I really would like for you to see it.
I'm also updating my website as I go along and will soon have clocks for sale and please don't forget to visit my

online store

.
If you have any questions or comments…I'm all ears!
Him~N~Her
Female tee
$19.99